Ban vs. Jude is a battle fought by the Deadly Sin Ban and the Holy Knight, Jude.
Prologue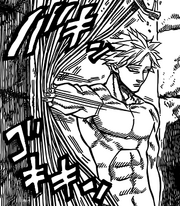 After escaping from his cell and defeating Jericho, Ban finds a guard looking lustfully at an imprisoned girl. Taking interest, he slams the guard's head in the bars and bends them, proceeding to enter the cell and take the dagger the girl had hidden, and releasing her to test the dagger's sharpness. Jude abruptly appears and declares that Ban will die, him having fulfilled his role as a bait for Meliodas.[1]
Battle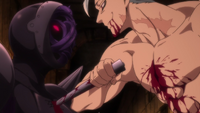 Jude and Ban's battle ends with the Holy Knight stabbing Ban in chest, and repeating that Ban has already fulfilled his role. Ban, explaining that he had let himself be captured five years ago due to wanting the feeling of pain that could make him feel alive, states that he is now sick of Jude's pain, and then removes the stake he had been stabbed with. Stabbing the Holy Knight back, Ban continues to say that since his captain was alive, there was no more any reason for him to continue being in Baste Dungeon. Jude questions then Ban if the Seven Deadly Sins were plotting the overthrowing of the kingdom like they did ten years ago, and warns him that if they were, every single Holy Knight would declare an all-out war against the group, with Ban commenting that he found such a war to be exciting.[2]
Aftermath
Soon after the battle, and after Meliodas and Diane defeat Ruin[3] and Friesia[4], respectively, the both enter the Baste Dungeon and encounter Ban and Sennett, who, frightened by Ban killed Jude, screams for help. Meliodas and Ban greet each other with high-fives and start arm wrestling, which results in the entirety of the dungeon being destroyed, despite Golgius triggering the Eternal Seal spell to trap the Deadly Sins inside.[5]
References
Fights
Ten Commandments Saga

Post-Kingdom Infiltration arc

:
Meliodas vs. Dogedo

Albion arc

:
Diane vs. Gowther  •  Meliodas, Merlin, Arthur and the Holy Knights of Camelot vs. Albion  •  Ban vs. Gerheade  •  King vs. Albion  •  Meliodas, Diane, Merlin, Slader & the Holy Knights of Camelot vs. Galand

Istar arc

:
Gilthunder, Howzer & Griamore vs. Red Demon  •  Hendrickson, Gilthunder, Howzer & Griamore vs. Gray Demon  •  Gilthunder & Howzer vs. Clay Dragon  •  Meliodas vs. King  •  Meliodas vs. Galand

Ravens arc

:
Deldry, Arden & Waillo vs. Fraudrin  •  Ban vs. Galand & Melascula  •  Escanor vs. Galand & Melascula

Great Fight Festival arc

:
Denzel & Deathpierce vs. Fraudrin  •  Diane, Gilthunder, Howzer & Gilfrost vs. Earth Crawler  •  Elizabeth & Elaine vs. Torah & Jigumo  •  Meliodas & Ban vs. Dolzzo & Calzzo  •  Diane & King vs. Drole Golem & Gloxinia Servant  •  Gowther & Jericho vs. Escanor & Hawk  •  Meliodas vs. Drole & Gloxinia  •  Meliodas vs. Ten Commandments

Defensive Battle for Liones arc

:
Escanor vs. Estarossa  •  Derieri vs. Nerobasta  •  Meliodas vs. Derieri & Monspeet  •  Merlin vs. Grayroad  •  Hendrickson, Zaratras & Dreyfus vs. Fraudrin  •  Meliodas vs. Fraudrin

Memories of the Holy War arc

:
Diane & King vs. Drole & Gloxinia  •  Meliodas, Diane & King vs. Calmadios  •  Ten Commandments vs. Four Archangels  •  Elizabeth vs. Derieri & Monspeet

Corand arc

:
Seven Deadly Sins vs. Melascula  •  Meliodas vs. Escanor

Prelude to the New Holy War arc

:
Seven Deadly Sins vs. Chandler  •  Drole & Gloxinia vs. Chandler  •  Arthur Pendragon vs. Meliodas, Zeldris, Cusack & Chandler

New Holy War arc

:
Search-and-Destroy Force vs. Demons  •  Monspeet & Derieri vs. Estarossa  •  Sariel & Tarmiel vs. Estarossa  •  Meliodas, Ban & Wild vs. Demon King  •  Gowther, King, Sariel, Tarmiel & Derieri vs. Mael  •  Gowther, King, Diane & Elizabeth vs. Mael  •  Assault Force vs. Zeldris, Chandler & Cusack  •  Seven Deadly Sins & Four Archangels vs. Zeldris & Original Demon  •  Seven Deadly Sins, Four Archangels & Zeldris vs. Demon King