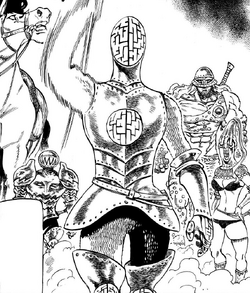 The Dark Talismans「闇のタリスマン, Yami no Tarisuman」 is an order within the Holy Knights of Camelot, under the command of King Arthur Pendragon.
Background
The Dark Talismans are an elite squad known only to a select few in Camelot, who are engaged in assassination and extermination missions.
Plot
The Dark Talismans are sent to eliminate the Knight of the Apocalypse, Percival, and his allies. After confirming the failure of Ardbeg, who was killed by their hand, in the same mission, one of its members is immediately killed by the own leader of the group after he fell under Gowther's Jack technique and attacked his comrades against his will.
After following their targets into the Entangled Forest, the four Talismans split up to follow different magical trails they believe belong to their enemies. This however is a trap to ambush them separately. Elgin, Burgie, and Doronach are confronted and defeated by the combined efforts of Percival's group, until Fiddich appears and heals them with an Incantation Orb.  The Dark Talismans decide to eliminate Sin, who acts as the enemy commander.  However, he reveals his true identity as Lancelot, easily managing to annihilate the Dark Talismans.
Members
Gallery
Trivia