Before progressing any further, please note that this site contains SPOILERS regarding the series Nanatsu no Taizai.
Welcome to Nanatsu no Taizai Wiki!
Characters
Introduction
The Seven Deadly Sins are an order of knights in the Britannia region who disbanded ten years prior for supposedly plotting to overthrow the Kingdom of Liones, forced in hiding by the Holy Knights who later took control after staging a coup d'état. Liones's third princess Elizabeth Liones is joined by the Seven Deadly Sins' leader Meliodas as they seek out other Sins so they can clear their names abd take back Liones from the Holy Knights.
Featured Articles
Balor's Magical Eye

「バロールの魔眼」 is one of Merlin's magic items, which is named after the One-Eyed God, Balor, that brought forth calamity and could see through his enemies.
Affiliations
External Websites
Manga
Anime
Other
Featured Image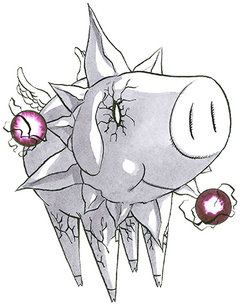 Wiki Poll
Latest Chapters
Latest Episode
Community content is available under
CC-BY-SA
unless otherwise noted.