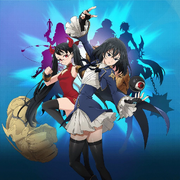 The Seven Disasters「七つの災い Nanatsu no Wazawai」 or The Seven Catastrophes are a group formed by Lilia that aim for the destruction of the whole world. They appear in the Grand Cross mobile game.
   
Background
Edit
After escaping from a sudden attack of the Seven Deadly Sins with Valenty's help, Lilia decided to create her own group to bring the calamity to Britannia, recruiting people from other worlds who share her destructive ideologies. 
Shortly after Eastin and Mono's alligment to the team, Bartra Liones predicted that the Seven Disasters, if they don't be stopped, will drown the whole world in chaos. Later, after installing themselves on the Temporal Junction, the group starts their plan of bringing the catastrophe to the world by summoning demons and monsters around Britannia while Lilia keeps searching for the remaining members and training to fully control her Awakened form.
When Shin's mobile device, emdded with magical energy, ended transportating people from the King of Fighters' game into the real world, the Disasters briefly left their differences with the Sins aside and joined forces with them to save Britannia, mostly because Lilia wouldn't accept someone, besides her, destroying the world.
They might be inspired by a mix of the Benevolent Kings Sutra, the Medicine Master Sutra and the The "Perceiver of the World's Sounds" chapter of the Lotus Sutra definitions of the seven disasters said to be caused by the slander of the buddhism teaching.
This is the first group in the series whose female members surpass male members in quantity.

Its also the first group to be led by a woman.

Every member of the Disasters is associated with one of the Sins in Grand Cross.
Community content is available under
CC-BY-SA
unless otherwise noted.