Zeno「ゼノ, Zeno」 was a former member of the Ten Commandments, who fought in the great war against the other four races 3,000 years ago.
Appearance
Zeno was a small creature bearing a strong resemblance to a rag-doll. He had white skin and a large oval shaped head with round eyes and a wide mouth. He had relatively long, thick arms with long black claws and stubby segmented legs.
Personality
His personality is mostly unknown, but given that he wielded the Commandment of Patience, he was likely a calm and patience individual who had a high tolerance for pain, lest he fall victim to his own Commandment.
History
3,000 years ago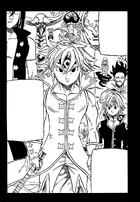 Three thousand years ago, the Ten Commandments fought for their race against the other four races in the great, ancient Holy War. The Ten Commandments at that time were led by Meliodas until he ended up betraying them, killing two of its members, Aranak and Zeno, in the process that would later be replaced by Drole and Gloxinia.

Abilities and Equipment
Abilities
As one of the demons chosen to be a member of the Ten Commandments, he was one of the strongest combatants among the demon race.
He seemed to possess the ability to levitate.
Commandment
Zeno's Commandment was Patience「忍耐, Nintai」, which made it so that anyone who shows intolerance of pain in his presence would be inflicted with worse pain.[2]
Trivia
References